I asked my Facebook friends to tell me an Eastern Shore Story.
A few passed.
Chad Horney said, "I might get locked up or my character will be tarnished."
But others came through:
Terry Alley Smith: "My father-in-law Elwood Smith used to tell of taking a bull by ferry to market with Mr Sol Grollman to Baltimore. As they were getting off the ferry, the bull got loose and started running down the street. They followed the sounds of commotion to a store their bull had gotten into. It  was beginning  to tear the whole place up. Bull in a China shop sort of scenario, I would imagine. At this point as they are looking in the store, the owner looks out and asks who the bull belongs too.  Mr. Grollman replied he didn't know, but the son of a bitch should be shot. They then left the bull in the store, got back on the ferry, and out of dodge."
Jimmy Eaton: "Me and Pat Collins went crab potting with Billy Sewell down in Crisfield, and we pulled the pots to come back home. I was on the canopy, and Billy and Pat were handing me the pots. We get done and was coming up the bay in the middle of the night when abad thunderstorm hit. It was pretty scary. We lost half the pots overboard because I guess I hadn't secured them properly. Then we get lost in the choptank trying to find Tiligman Island. When we finally get there, Billy had to get someone to open the bridge. It was an adventure to say the least."
Beth Anthony: "When I was just a little girl, my Dad, Milton, was the manager and coach of the Queenstown Softball team. In those days, every town how there team. I remember traveling to Conquest Beach, Prices Station, Sudlersville Middle School, Chestertown, which was a big riffle then. As in any other league we would have home& away games. On our home games I was designated the "Hat" girl. I would walk around the diamond, pass the hat, people would donate money for the upkeep of the diamond. But the best is when it came time to drag the field, they would tie tires to the back of the truck, & we sit on them while they drug it around, & around, until the infield was stone free  on away games we all packed into Uncle Bunky 's pickup & went to wherever. I remember one night leaving Sudlerville's Queenstown won, so the guys had a tailgate party on the way home. Old Man Sheriff Clough pulled up!! Just knew it was trouble, but all he wanted to know is if we won! And we did !!"
Nina Cole White: "Oh my gosh my Dad and Mom were friends with Mr. Jinx and his wife they called her Baby Jane. I changed my date of birth on my drivers license when we were waiting in line so i turned 18 in January that year instead of July. My Mom fussed at me and I said don't worry. Lol. Anyway i always bought beer at Jinx's even had a charge account there paid it on pay day when I really turned 18 of course at Jinx's buying or charging beer and I slipped and said I was celebrating my 18th birthday. Mrs. Baby Jane fussed at me I showed her my drivers license and told her how I changed the date she laughed. I think she died later that year a blood clot or something like that. She was so nice loved Mr. Jinx and Mrs. Baby Jane."
David Rhoten "Nina Cole White I remember Mr. Jinx and his buddy's would be playing cards in the back room around the corner. We went in there so much he would let us load up our coolers with free ice."
John Caputo: "Richard von Lusch (owned) The Old Schoolhouse Antiques. He did shoot at one plane when I worked at the airport. I swear that SOB must have invested the autodialer. When he was on a tear, we'd get several hundred calls a day. We'd either hang up or laugh at him. Thought his head would explode at times. There was one guy…who shall remain nameless…who was rumored one Halloween to have mixed up some red paint with a load of horse manure…and planned an evening "bombing run"…until his boss intervened and took the keys to the plane. Also some great stories about Mr. Nathan "Bill" Morris, who built Kentmoor and Bay Bridge. A great and amazing guy, had some amazing patents to his name. Took yearly hunting trips to Alaska in his Cessna 182…and came back with a planeload of moose and great stories. He's a member of the Maryland Aviation Hall of Fame; and the plane, "The Spirit of Maryland" is at the museum at Glenn L. Martin Airport."
Sandra Brown Early: "My father once worked the Narrows Bridge. He had a TV to pass the time. One day he realized he got better reception when the TV sat in the window. I can just see that TV floating away…"
Ruthie Jones Patton: "Lol, this post made me remember alot of us kids from Evans Avenue used to picnic and swim in the drainage ditch back on the old Evans farm. We lived there when I was seven. My mom got a Volkswagen bus. It was a three speed on the column that she couldn't really drive. She loaded us four kids, me Lori, Joey and Paul in the back with our black lab Smokey. Around and around the old dirt track she drove hitting every bump, ditch, stump or stone. We were aged 7, 5, 4 and two. We'd hit the roof every time she hit a bump and laugh so hard we all peed our pants and the dog puked. When she finally gave up we fell out of the back like little drunks. The dog couldn't walk and ran every time he heard an engine start or a car come up the lane. Technically not an eastern shore story but a reminder of a younger more innocent time."
Some conversation was started:
Dawn C. Loetz: "During the 1979 blizzard, we were snowed in at home in Kent Island Estates, and our mother couldn't get home for what seemed like weeks, so naturally we had a party every night. Somehow- somebody was able to get up and down Route 8 to get to the liquor store. Where there is a will, there is a way I guess? One day my brother, Augie Loetz, must have been bored, or whatever he was feeling, so he stood inside the back door and shot a goose that was flying over somebody's house way down the road… as his luck would have it, the goose landed in a game warden's yard-who then proceeded to trudge through the deep snow to give Augie a nice, big fine."
David Rhoten: "I was there, I don't think we knew it was going to snow that much. The snow was up to my windows the next morning on my GTO. After a few day's, finally made it up Rt8, It was only a single lane plowed with snow up on each side about 7 foot high. Crazy / Wild Times"
David Rhoten: "Dawn,  Do you remember we were hooking school and going to go to the Ocean, I let you drive my car. But I had bad brakes. You had to pump them to get the car to stop. You ran into the back of another car in Easton at the red light. So much for the trip to the Ocean. Never made it."
Dawn C. Loetz: "David Rhoten oh my gosh, yes! I sure do remember that! I was so embarrassed and scared to death! I have talked about that, and been reminded of it through the years. Wasn't it a Firebird or something that I hit?"
David Rhoten: "I believe it was a Firebird."
Dawn C. Loetz: "It was really good reminiscing though. I miss those times for sure."
Nora Cannon: "Remember only needing 18 credits to graduate high school, and getting out on 'work release' if you had a job as a senior?
David Rhoten: "I got out on work release in my Senior year. (1980) Worked 2 weeks and got laid off from my job. Either went home or picked up other kids and rode around all afternoon the rest of the year. Nobody ever checked up on us."
Nora Cannon: "The priceless looks Mrs. Kimbles in the attendance office at Queen Anne's County High School would give when a carload of us Church Hill kids would bust in all late in the morning."
Dawn C. Loetz "I used to "work" in the office helping Mrs. Kimbles with attendance. My sister didn't go to school very often, so I never knew if she'd be there on any given day. Mrs.Kimbles (who didn't mind saying it like it is) would ask me if my sister were there that day, and I'd always say that I didn't know.  She would snap, "What do you mean you don't know! Doesn't she live in the same house as you, now is she here, or not?!" lol You probably had to be there, but like you said Nora, she had that look that I will never forget. I can still see her face clear as day."
Some of the memories shared were nostalgic for a simpler time —
Josie Simons "Me and Laurie Cox use to sell empty plastic jugs to Mr Joe Coleman for 10 cents a piece and then go to Burns Texaco to buy Yoohos. They cost 16 cents. And playing ball with the Chuck and Robert Radcliffe. And don't forget my carnivals for muscular dystrophy they were a lot of work but a lot fun too. 4-H meetings at Miss Linda's Hortman's house and fun at the 4-H fair"
Nora Cannon: "Taking a wagon with Wendy Morris Palmatary as kids to meet the Trailways bus at the Church Hill post office. We would wait for her mom's sub roll order from the bakery in Philadelphia. We loaded the boxes of sub rolls on the wagon and pulled them down to the sub shop. Wendy's mom, Ms Ethel, would make us go early and wait because the bus driver would unload them right there on the sidewalk."
— but many of the stories shared were similarly about how ornery my dazed and confused 1970's era generation was:
Michael Rosendale: "Clark Price and I ice skated across, Love Point to Eastern Neck Island…I think it was the winter of 1977… because I went to Valley Forge Military Academy in 78…We were just skating on the big pond and decided to head out the gut….when we got to the river we just kept on going, we both had hockey sticks, so we figured if one of us fell in, we could pull the other out. Bill Moore was at Langenfelder's and saw us go out there… he lost site of us, probably because we cut across the barges when we headed across and told everyone we must have fell through the ice.. When we got to Eastern Neck Island, we took a break on the beach for a while and headed back. When we got about halfway back across we saw a lot of commotion on the beach and a helicopter flew over, I remember saying, "wouldn't that be funny if they were looking for us"….. not so funny, as we got closer Clark's brother caught up to us on foot and told us how much trouble we were in, as we approached the beach you could see a bunch of people and emergency vehicles in my parents yard. When we got to the beach I remember my father was angry and told me to get up to the house, he was trying to kick me in the ass, but he had hip replacement so I was able to out run him even with my ice skates on !  If I remember right, the Capital did a story on it. It's probably not the smartest thing I ever did, but it's something I bet nobody else ever did, and probably never will, and that's all I have to say about that."
Chuck Kerr: "I broke my leg water skiing in Mid July before my senior year in high school. After a month in traction, in the hospital they put me in a body cast. Three days later I was cleared to go home. Called my dad the day before telling him I was to be released the next day. He bought a Gran Torino Station Wagon to get me home from the hospital in. Within less than two weeks I had figured out how to drive in that body cast .
A few of us guys loaded up one night and I drove to State Circle to the movies in Annapolis. Drinking beer along the way . On the way back home, on Rowe Blvd., we stopped to take a leak in what looked like a Govt. Building that was closed for the evening. They jump out and are just about finishing by the time I get my crutches and get out myself. Four doors open. Four teenagers from the Eastern Shore, one in a body cast on crutches, are hiding in the shadows relieving ourselves. We are right by a front door. We noticed in the back parking lot a bunch of cop cars . Easy to see because they had that big bubble on top. Just about this time one of us read the sign outside the front door.
" MD. State Police Barracks ? "By this time they are back in the car and I'm struggling to get my stiff ass back in the drivers seat. We hauled ass out of there. Luck of the Irish was with me that night. We made it home unscathed."
Lisa Davis: "I remember coming to visit you and your good friend Tom Davis says, while you are lying there in traction, man that's too bad your not going to be able to play lacrosse in your senior year. Lol!!"
Tom Davis: "Lisa Davis thanks for bringing this up. He had forgot that foot in mouth move on my part!!!!"
Chuck Kerr: "It was a broken femur Tom, not hoof n mouth disease."
But mostly my friends just wanted to reminisce —
Nan Severa: "I remember fun times cruising the "Freeze", Matapeake, Goodhands creek, and of course hanging out at the park n ride playing Frisbee and partying all night next to western auto…and don't forget the 3 day bluegrass at festival. (There were) the carnivals at the original Kent Island firehouse, and some at the American Legion down Rt.8 and one or two carnivals held across the firehouse at the Stevensville middle school…the old fashioned prize bingo games upstairs in the firehouse where you could win coffee, sugar, cakes, sodas, etc, The only 24-hour gas station on the island was Big Daddy's where Dash-in is now…many fun times at Waterman's Inn, Island Inn (Silver Dollar), and of course no place…baseball games across Waterman's Inn, and if you got hungry after being at the bar till closing, you would break down and go to Ms.B's truck-stop down in Queenstown to eat their awful food because if you been drinking, that was the only time you could tolerate that food! And don't forget that hideaway bar in downtown Queenstown called Red Lion! Also remembering the Queenettes majorettes! I was one of them, along with April LaBrie and Lisa Lister, and of course "Emily Capel", wow that was soooo long ago…Ms. Dashiells dancing class also consisted of myself, Lisa (April didn't join, lol), Barbie Thomas, the Roser girls, my cousin Mindy Sewell, Jenny, Meg and Georgia Novak…many…many…many….good memories on this good ol' Eastern Shore through the years…lots of friends and family are long gone now, so much has changed…there were no cell phones, no computers, no Facebook, drinking age was 18, wow…i could go on and on…."
David Rhoten: "I'm going to add a few — Boat Races at the Kent Island Yacht Club. VFW Seafood Festival, Jinx's, Baker's and Rocky's Liquor stores. Hanging out at Bay City Beach, Bay City back Party Road, Tower Gardens North and South Beach. Kent Island Estate Beach, Eating at the Ebb Tide Restaurant in Grasonville, Circle Restaurant in Chester. Bay Bridge Beauty Salon Grasonville. Grollman's Store in Stevensville, Foxes in K.I. Shopping Center."
Cathy Kramer: "I could blow this post up but let me just give you some brief topics to remember – Life on the Island before the 2nd bay bridge and the New High Narrows crossing. The Tastee Freez that employed all us 'local girls' and some islanders would just park their hot rods there every summer night – and one particular Bruce rode his horse and took 'breezin the freez' to a whole new level.
"Ice skating parties on every crick – we would just migrate to each one. 4th of July fireworks at the only spot KIYC. Going to Grollman's to grab a soda – buy some white boots and chat with baby Jules and big Jules- if you were lucky you would see The Babe."
"Shooting pool at No Place sometimes when you cut school and had Georgie write your 'permission slip'. Haha. Oh that place."
"Breakfast or late lunch at the circle inn. Experiencing Hell Night in Devils Dominion. Aka Little Crick. Waving to Buddy in Stevensville. Hollys kid table (where my husband proposed marriage to me). I wanted to buy that one."
"Shotgun blasts continual to keep the geese off your fields. Halloween parade at the old Acme. I could going and going….There are many memories around all of these things."
Teresa Hunter: "Great job Cathy Pease!just remember some chicken Necker girls worked at the Freez."
Cathy Kramer: "Yes and they were our best friends!"
Therese Cornwell: "A lot of hickies at the freeze as I recall."
Cathy Kramer: "Omg! Hickey city."
Terri Thomas Schelhouse "All the Ma and Pa places to eat… Circle Restaurant. Breezing the Freeze.. Islander… Hollys…

"…riding around Kent Island…going to "Goodins Creek" to party or park… neighborhood baseball games.. riding bikes all over…KI carnival and parade…Kent Narrows bridge up and no ac in the cars…More farms than developments…parties on roof tops…
…friendships that will last a lifetime."
Ricky Timms "It's like a thousand little stories only start to tell the whole story!!!"
Jimmy Ferrier: "I can't remember the REAL good times!"
Our next live filming of Love Letters to the Shore will be at the iconic Carpenter Street Saloon  carpenterstreetsaloon.com in St. Michael's on Saturday, September 22!
Come out and watch the shoot!
If you have, or someone you know has, an Eastern Shore story, or a unique perspective, that needs telling on-camera, let us know in advance on our Facebook page or drop us a direct message.
While you're at it, don't forget to 'like' our page (https://www.facebook.com/LoveLettersToTheShore) to keep up with the progress of our documentary over the next few months. #LoveLettersToTheShore
https://www.stardem.com/spotlight/creating-love-letters-to-the-shore/article_ebbe4a1b-2005-5429-9a23-07ea16d0ff67.html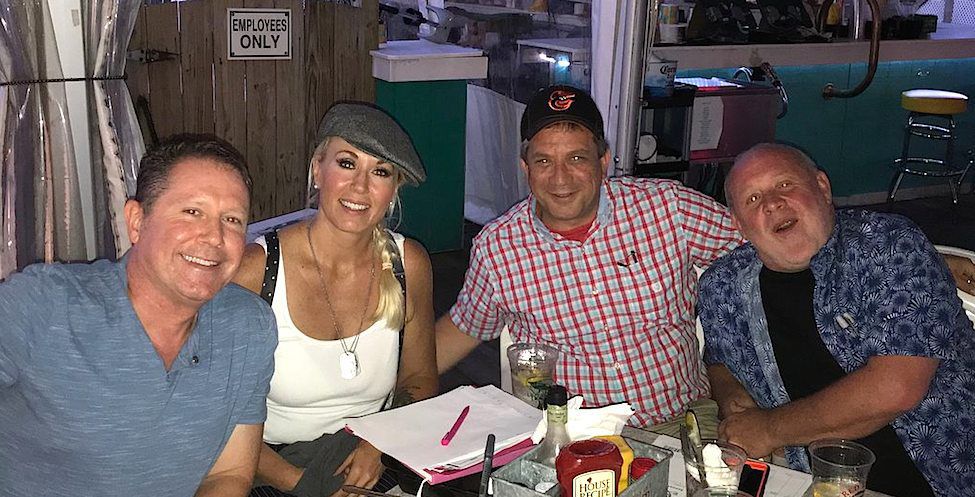 Troy Lowman, Allison Tucker, Kevin George & Brent Lewis